Features & Benefits
Extreme Precision & Accuracy, Flow Rates as Low as 100mL/minJust right for mice and other small animals
Ambient Air or Compressed GasSaves time, increases accuracy, decreases WAG
Less Waste Gas ExposureIncreases user safety
Automated Anesthetic Delivery SystemEnsures precision to 0.1% for reproducable results
No Annual Calibration or CertificationElectronic vaporizers utilizing active vaporization technology do not require annual maintenance and include a no-calibration certificate for facility inspections.
Complies with Regulatory GuidelinesLow Flow vaporizers use less anesthetic and reduce exposure and waste anesthetic gas
System Includes
Integrated touch-screen display
External 250 mL bottle connection and holder
Anti-spill, anti-vapor bottle top adapter
Two accessory adapter
WAG canister and holder
1-Year 100% Parts & Labor Standard Warranty
Anesthetic Delivery System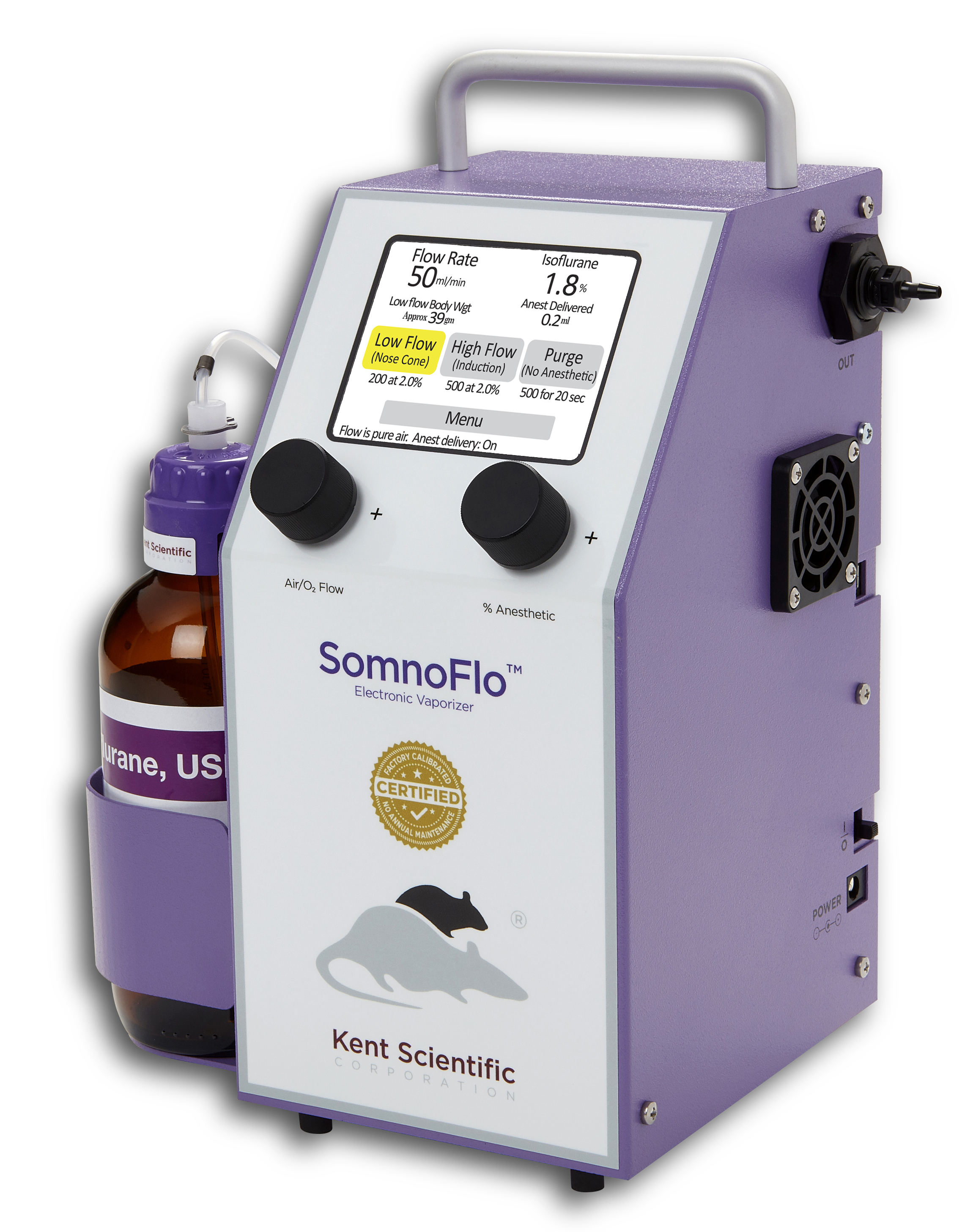 SomnoFlo draws anesthetic directly from the standard 250mL bottle placed in a convenient holder outside the vaporizer.
Operates With Ambient Air or Compressed Gas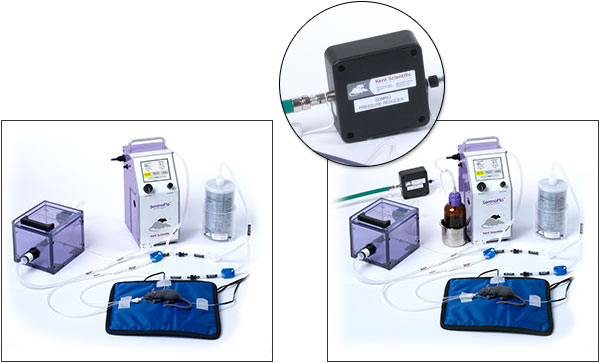 SomnoFlo operates using an internal air pump with ambient air or with compressed gas. For gas supplied at > 15psi, the Somno-7305 Preset Pressure Reducer is required to regulate the pressure.
How Much Could You Save?
Calculate your savings using a
SomnoFlo® Digital Vaporizer vs. Traditional Vaporizer:
Calculation Based on:
Flow rate of 0.2 L/min for SomnoFlo & 2 L/min for Traditional
Iso Concentration of 2%
Annual calibration cost of $200 - $300* for Traditional.
Average cost of a typical 250 mL bottle size of Iso is $35:
Volume x $35 x 4 = $Cost/year
Compressed gas fees vary from academia to pharma. Most tanks are rented with fees for tank fill/replacement averaging ~ $1,000/year.
Calculations are based upon a specific customer request, and can be adjusted to other specific uses.
---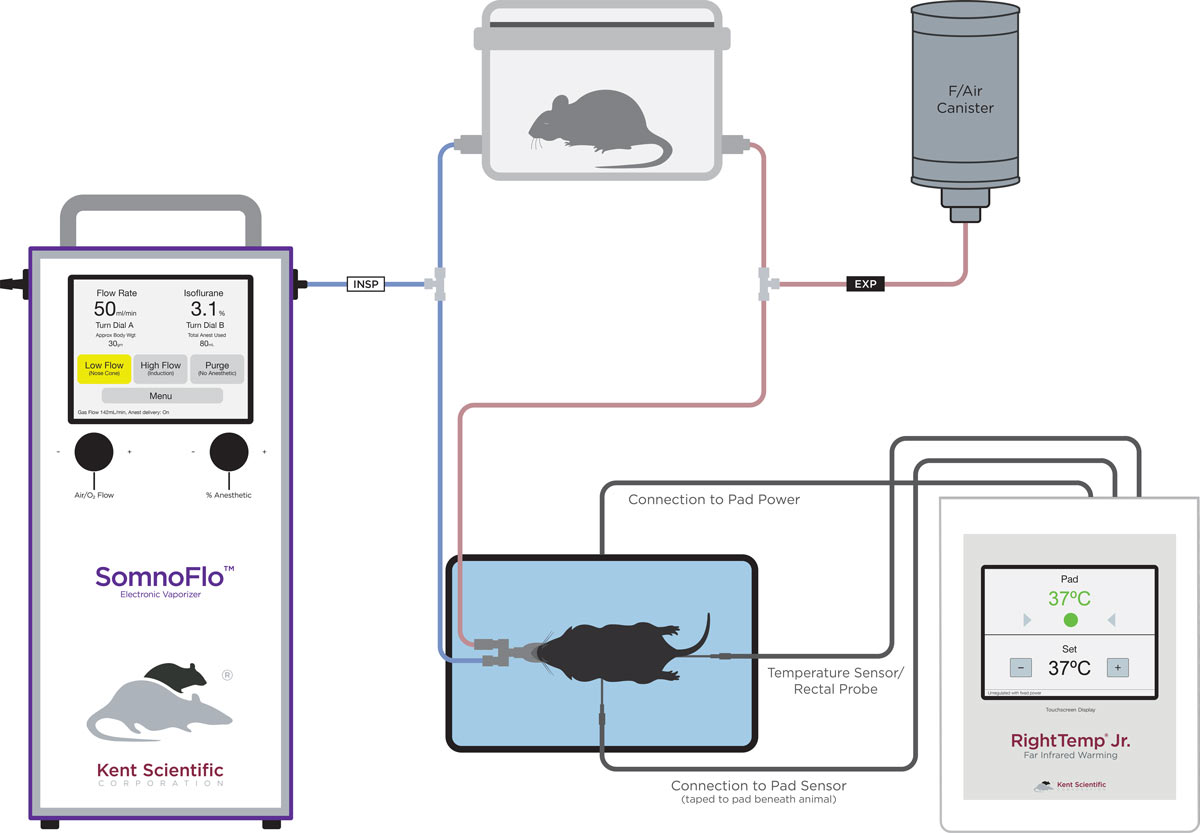 Warranty Information
US & Canada

Standard

No Charge

Extended

$750

Premium

$1,750

Coverage Period
1 Year
Additional 2 Years
Additional 2 Years
Controller
Loaner Equipment

(for use under warranty repairs)

$450/Week
$450/Week
Unlimited
Loaner Equipment — Shipping

(for use under warranty repairs)

Next Day
Onsite Installation & Training
Training
Expedited Repairs
24 Hours
Note:
Damage or failures that result from abuse, negligence, or misuse are not covered under warranty.
Expedited repair time starts the business day after product is received and ends when shipped to customer.
Customer is responsible to inform Kent Scientific when making a warranty claim.
Extended warranties purchased after the original system sale are subject to approval. It may be necessary to have the controller returned for inspection before the purchase of the extended warranty.
SomnoFlo® Videos
SomnoFlo® Setup and Mouse Anesthesia Protocol
Demonstrating the Precision of Low-Flow Anesthesia Systems Observing the Tail Curl Reaction in an Anesthetized Mouse
Reviews
We have 4 SomnoFlo units and all 4 of us rodent surgeons here LOVE them! The vaporizers are used extensively and we've had them for almost a year now and not one of us had to replace the 250ml bottle of Isoflurane that we started with yet. It is so efficient that from November until this month (August), and after 166 surgeries, the charcoal filter is heavier by a mere 14 grams. We placed an order for 1 more unit recently so that we can completely replace all of the high flow vaporizers that we used before.

We actually did order a SomnoFlo and we like it a lot. We just ordered a second one.

We ended up purchasing the Somnoflo and it works amazing. We also have received great customer service whenever we have needed help/ and or have had questions about the product.

The SomnoFlo has a significantly smaller footprint than the standard isoflurane cart; our procedure room feels like it's doubled in size since replacing the cart that was in the middle of the it with the SomnoFlo on the counter. I used to trip over the legs of the isoflurane cart almost daily, and I'm delighted to have it out of the room. Being able to use room air instead of oxygen is a huge bonus - no more monitoring how much oxygen we have left in the tank or stressing over whether the tank will be replaced on time before our next surgery.
The SomnoFlo has made our lives much easier.

Wanted to check in since receiving the SomnoFlo that we ordered a few months ago. The system works amazing! All our lab members have had a chance to use the system and we are highly impressed with the efficiency of the machine and how quickly we are seeing the mice wake up from anesthesia after finishing our procedures with them.
View All Product Reviews