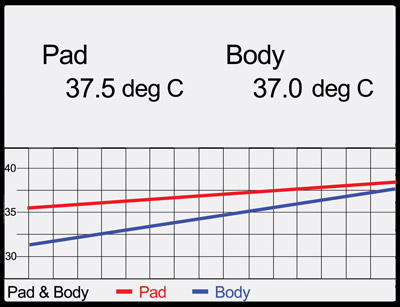 RightTemp®
Temperature Monitoring & Homeothermic Control Module
Reviews
We are extremely satisfied with our Somnosuite purchase. This is the third system we have purchased for our lab. All of the researchers who are using those systems like the size of the system, the lower isoflurane exposure, and the incorporation of the RightTemp module for their monitoring purposes. The systems have worked well, and on those occasions when repairs have been needed Kent has been great about working with us to get them repaired in a timely fashion.

I'm 100% sold on the product.
1. No need for oxygen cylinders. This is nice as inevitably someone in lab fails to let others know that we're almost out. Also, now not a problem with our annual safety evaluation since we don't have compressed cylinders.
2. No need for annual calibration. This is beyond lovely. It is a pain to send off these units which are essential to lab progress once a year to get them serviced and calibrated. My university leaves me alone about my unit because it isn't a traditional unit and doesn't require service/calibration unless we've noticed a problem.
3. When we have had problems (and we have had problems, and my husband lab had a problem), you guys are on it. Very prompt in attention and getting it fixed and returned.
4. The RightTemp module is good. I don't use it as much as I maybe should, but we do use it as a heating pad during surgery (calibrating the temp of the pad, not by the rectal probe). It is nice to not have to nuke and then cool down overly heated wax-like heating pads or fold a normal heating pad into a ridiculously small space.

"I like the temperature probe integration to automatically increase the temperature of the warming pad."

We love the system. Our surgical space is somewhat limited so having the SomnoSuite is a huge space-saver both in terms of its small footprint and independence from oxygen canisters. The versatility is great, too, in terms of being able to have both induction box and surgical mask hooked up concurrently. We also appreciate the efficiency of the system in terms of isoflurane consumption and are utilizing the heating pad option.

The warming pad is excellent, we use ours during surgery.

We have used circulating water blankets in the past, and even heat generating light bulbs and the RightTemp is superior.

The RightTemp works very well. Really keeps the animals warm and reads the body temperature very easily.