Ensuring Long-term Accuracy in the Lab with Electronic Vaporizers
Posted on
An electronic anesthesia vaporizer converts a liquid anesthetic into a gas vapor. This process is required because anesthetic agents are usually supplied in liquid form at atmospheric pressure and room temperature. These agents must be vaporized before lab animals can inhale them for surgery.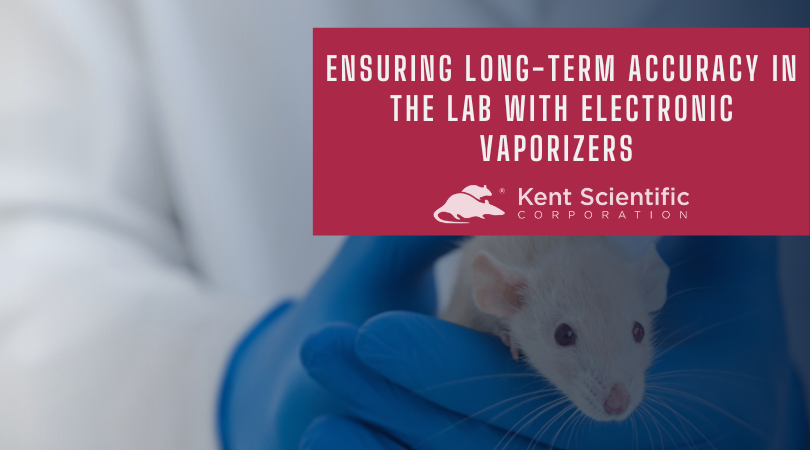 A traditional anesthesia vaporizer delivers a controlled concentration of a vaporized anesthetic agent calibrated for gas flow, vapor pressure, and ambient temperature. However, electronic vaporizers are becoming more frequently used due to the range of benefits they provide.
What Are Electronic Vaporizers?
Vaporizers are machines used to safely deliver volatile anesthesia to small animals such as mice or rats during scientific experiments. They are mounted between the flowmeter and the gas outlet in an anesthesia machine and are also fitted with safety features such as color-coded filling devices and anti-spill mechanisms1. Electronic anesthesia vaporizers have significantly evolved from the original instruments, and their new developments can help laboratories save money by reducing the need for calibration and maintenance.
The Benefits of Electronic Vaporizers
As there are several disadvantages of traditional anesthesia vaporizers, the electronic models have been designed to combat them in several ways. Electronic vaporizers provide the following benefits:
Accurate amounts of anesthetic gas delivered
Cost-effective as no maintenance is required
Gas delivered based on the size of the animal
No calibration is required
Reduces the likelihood of gas exposure to scientists
Set gas flow rates
Stable temperature
One of the critical benefits of Kent Scientific's Somno® Low-Flow vaporizers is that they do not need calibrating. This is an aspect that is frequently discussed about laboratory equipment, and it is both a costly and time-consuming process. By eliminating the need to calibrate, our vaporizers will help laboratories save money and allow them to allocate saved time to more critical tasks.
Electronic Vaporizers with Kent Scientific
In addition to traditional wick-design canister vaporizers, Kent Scientific supplies two Low-Flow electronic anesthesia systems for small animal and rodent research: SomnoSuite® and SomnoFlo®. Each offers a compact footprint along with an automated delivery system for maximum ease of use. SomnoSuite is designed to provide optional modular physiological monitoring capabilities, while SomnFlo is a standalone vaporizer only.
The risk of vaporizer overfilling is wholly eliminated, and extreme precision is ensured, with absolute flow accuracy guaranteed down to rates as low as 50ml/minute. There is little risk of overdose using our vaporizer for small animal anesthesia induction. The automated system also ensures precision to 0.1% for highly reproducible results.
Lastly, our electronic vaporizers utilize active vaporization technology, which means costly calibrations are a thing of the past. The SomnoFlo system even comes with a no-calibration certificate to satisfy facility inspection requirements. By removing the need to calibrate and maintain the vaporizers, we have estimated annual savings of $3,320 for 100 hours of use per year. The savings can be increased if the vaporizer is used more frequently.
Are you interested in learning more? Contact a member of the team today.
---
Sources:
Chakravarti S, (2013) Modern anaesthesia vapourisers. Indian J Anaesth [online] 57(5):464–71. Available at: https://journals.lww.com/ijaweb/Fulltext/2013/57050/Modern_Anaesthesia_Vapourisers.6.aspx