Finding Grants and Funding for Clinical Research
Posted on
Research requires money, and finding the funds you need to support your research is a fact of life for most clinical researchers.
Fortunately there are many sources of funding available, including research grants, awards, fellowships, cooperatives, and other types of funding.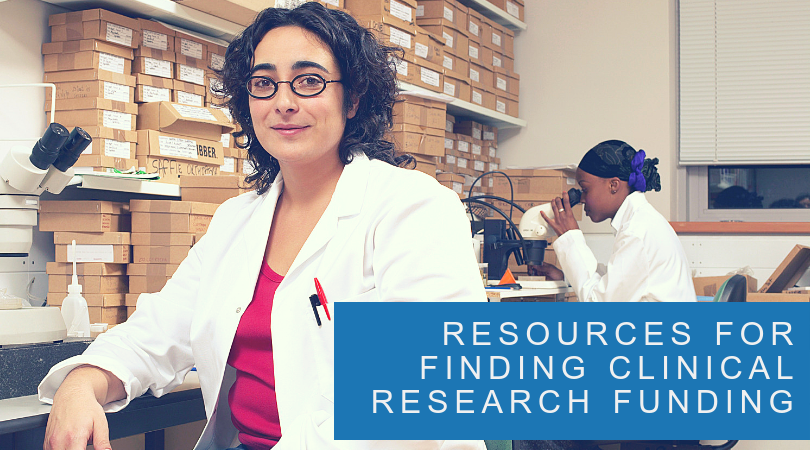 While there are many websites and organizations dedicated to finding funding that require a subscription or membership, all the following resources are free to use for anyone.
Federal Grants
Grants.gov: Grants.gov lists all fellowships, grants and other funding opportunities across all 26 agencies of the U.S. government, including the Department of Health and Human Services, the Environmental Protection Agency, the National Science Foundation, and the Department of Energy. The site has a comprehensive search feature that lets you look for funding based on keywords, funding type, category, agency and more.
The National Institutes of Health (NIH): The NIH is the largest public funder of biomedical research in the world, with 24 institutes and centers awarding $32 billion a year in grants to improve human life and reduce illness and disability. The site offers a wealth of information on what types of funding the NIH offers, what types of organizations and people are eligible to apply, what the NIH looks for in a research project, and how to apply. The site also offers a dedicated page for researchers with information and tips on applying for research grants, as well as a page on medical research with animals, which describes the special requirements for writing a grant for research involving animals.
The National Science Foundation: The U.S. National Science Foundation accounts for about 25% of federal support to academic institutions for research in the fields of science and engineering. It provides grants and cooperative agreements to more than 2,000 colleges, universities, K-12 school systems, businesses, informal science organizations and other research organizations in the United States. It funds about 27% of the approximately 40,000 proposals it receives for research, education and training projects each year.
Disease-Specific Private Grants
In the private sector, many national and local foundations and charities offer grants for research in specific areas.
Cancer
Alex's Lemonade Stand Foundation: Has provided almost 1,000 grants at 135 institutions to fund research leading to cures and improved quality of life for children with cancer.
American Association for Cancer Research: Has awarded more than $400 million in funding to more than 700 scientists for cancer research projects that aim to advance the understanding and treatment of cancer.
American Cancer Society: The nation's largest private, not-for-profit source of funds for scientists studying cancer; offers grants for innovative research conducted by hundreds of scientists and health care professionals at institutions nationwide.
Children's Leukemia Research Association: Funds research grants for doctors who are conducting research into determining the causes and finding a cure for leukemia.
Conquer Cancer Foundation: Provides grants and awards to clinical and translational cancer research done by physician-scientists at every stage of their careers.
Leukemia & Lymphoma Society: Provides academic grants to support and encourage basic and translational leukemia, lymphoma and myeloma research.
Lustgarten Foundation for Pancreatic Cancer Research: Awards grants for research projects related to the diagnosis, treatment, cure and prevention of pancreatic cancer.
Mary Kay Foundation: Has awarded more than $28.4 million in grants to doctors and medical scientists focused on curing cancers that affect women.
Melanoma Research Foundation: Has awarded over $17 million dollars in research funding to researchers at 69 institutions across the U.S. focused on melanoma prevention, diagnosis and treatment.
Multiple Myeloma Research Foundation: Supports innovative research efforts in blood cancer research with more than 350 research grants at over 135 institutions worldwide.
National Cancer Institute: Supports cancer research from basic science to clinical research to research on implementation, cancer control, and cancer care delivery through a program of grants, cooperative agreements, and research and development contracts.
Susan G. Komen: Supports research to identify and deliver cures for breast cancer.
Other Diseases & Disorders
Alzheimer's Association: Provides several grants to advance the understanding of Alzheimer's disease, identify new treatments, improve care for people with dementia, and further the knowledge of brain health and disease prevention.
American Thyroid Foundation: Provides grants to supporting research into better ways to diagnose and treat thyroid disease.
American Brain Tumor Association: Provides several grants for scientists doing laboratory or field-based research in the field of brain tumor research.
American Federation for Aging Research: Has provided more than $178 million to over 4,100 researchers and students for research efforts in the areas of biomedical and clinical research related to aging.
American Heart Association: Provides grants to fund research involving cardiovascular disease and stroke.
American Lung Association: Offers several awards to support research that aims to eliminate lung disease and improve the lives of people with lung disease, including prevention, detection and treatment options.
American Society of Hematology: Supports basic, clinical, and translational hematology investigators at all levels of their careers through many research award and grant programs.
Arthritis National Research Foundation: Provides arthritis research grants to scientists at major universities and research institutes for projects that aim to understand the causes, prevention, and development of new treatments for osteoarthritis, rheumatoid arthritis, lupus, juvenile arthritis, and other autoimmune diseases.
Cure Alzheimer's Fund: Funds research with the potential to slow, stop or reverse Alzheimer's disease, including identifying all the genes and gene mutations that are linked to Alzheimer's.
Cystic Fibrosis Foundation: Provides grants for research to encourage the development of new information that contributes to the understanding of the basic etiology and pathogenesis of cystic fibrosis.
Muscular Dystrophy Association: Funds research that transforms the lives of people affected by muscular dystrophy, ALS and related neuromuscular diseases.