Animal Research Plays a Key Role in Developing Important Vaccines
Posted on by Eugene Marino, Marketing Manager
Animal models have been used in biomedical research for hundreds of years, and some of the most important breakthroughs animal research has made possible are vaccines. Research with mice, rats, and other animals has led to vaccines for polio, several types of meningitis, typhus, whooping cough, smallpox, tetanus, measles, cholera, and many more.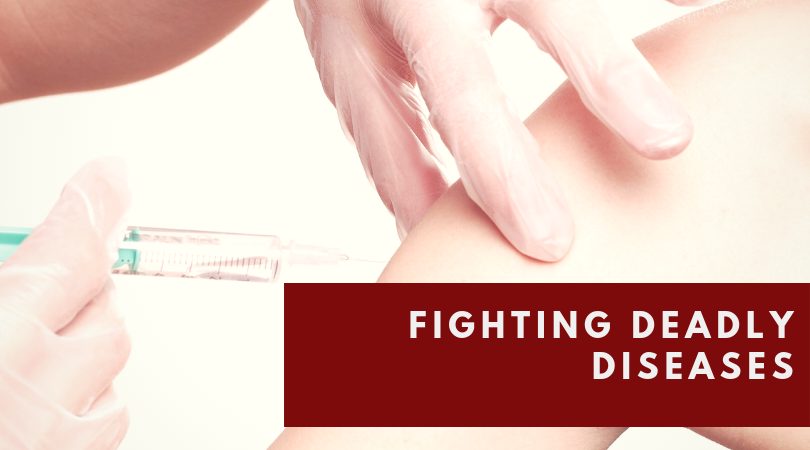 Many infectious diseases still don't have vaccines, however, and scientists continue to work to develop vaccines for diseases including malaria, AIDS, diabetes, Alzheimer's, and others. Here are a few vaccines that are on the horizon.
Brain Cancer Vaccine
Glioblastoma is a rare but extremely aggressive type of brain cancer, with a typical survival rate of just 15-17 months after diagnosis.
A new vaccine called SurVaxM harnesses the patient's own immune system to combat the disease by boosting the body's ability to kill tumor cells that contain the protein survivin, which is found in more than 90% of glioblastoma cases as well as other cancer types including ovarian, renal, lymphoma, prostate, and breast.
SurVaxM was developed by scientists using rat models at the Roswell Park Cancer Institute in Buffalo, NY, and is now in clinical trials. It is also being studied as a possible treatment for other types of cancer, including multiple myeloma.
Tumor Vaccine
Another immunotherapy-based cancer vaccine is being developed by a research team at Stanford University. Injecting a combination of two immune-boosting agents into tumors in mice has been shown to kill 97% of the tumors in the body—even metastasized tumors that have traveled to other locations in the body.
The vaccine has worked with several different types of cancer, including lymphoma, breast, colon, and melanoma, and is now in clinical trials with non-Hodgkin lymphoma patients.
Ovarian Cancer Vaccine
Researchers at the Lerner Research Center at the Cleveland Clinic have developed an experimental vaccine that has shown promise in preventing ovarian cancer.
The vaccine inhibits the growth of ovarian tumors in mouse models by targeting the protein AMHR2-ED, which is present in elevated levels in 90% of cases of ovarian epithelial cancers, the most common types of ovarian cancer.
Scientists say the vaccine may be especially useful for women who carry the BRCA1 and BRCA2 gene mutations, who have a much higher risk of developing breast and ovarian cancer. They hope to start human trials soon.
Zika Virus Vaccine
Two researchers from the National Institute of Allergy and Infectious Diseases (NIAID) at NIH have been nominated for the Promising Innovations Medal for their work in developing a vaccine for the Zika virus, which has been contracted by more than 223,000 people since 2015.
The development of the vaccine included animal studies in mice and nonhuman primates. In human trials, the vaccine was shown to induce an immune response in healthy adults. The vaccine is now in phase two clinical trials.
Ebola Vaccine
Ebola, which killed more than 11,000 people in Africa from 2013 to 2016, is one of the deadliest diseases in the world, with a close to 90% mortality rate. In May, a new outbreak of the disease was declared in the Democratic Republic of Congo, which prompted the World Health Organization to launch a vaccination campaign using a new Ebola vaccine called rVSV-ZEBOV.
Ebola was discovered in 1976 and early attempts at an Ebola vaccine were tested on guinea pigs in 1980, but the new vaccine was developed by scientists working for the Public Health Agency of Canada using macaques.
The rVSV-ZEBOV vaccine is the first highly effective vaccine for Ebola, showing a near 100% disease prevention rate in clinical trials.
Peanut Allergy Vaccine
A new study found that peanut allergies in children has increased 21% since 2010, and that as many of 2.5% of kids have an allergy to peanuts.
Researchers at the University of Michigan are testing a vaccine that may turn off peanut allergies in mice. The vaccine, which is administered in three monthly doses via nasal spray, works by changing the way immune cells respond to allergens.
Currently the treatment alleviates allergic reactions for two weeks. The method is now undergoing further testing in mice in an attempt to create a more long-lasting suppression of the allergy.
---
As these examples show, research with animals continues to be crucial to developing human vaccines that can eradicate disease and improve lives worldwide.