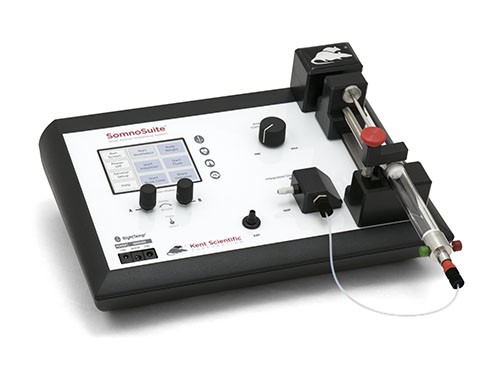 SomnoSuite
Low-Flow Anesthesia System
Reviews
I've been using the platform (SomnoSuite) for many years now, and I wouldn't exchange it with anything.

We are extremely satisfied with our Somnosuite purchase. This is the third system we have purchased for our lab. All of the researchers who are using those systems like the size of the system, the lower isoflurane exposure, and the incorporation of the RightTemp module for their monitoring purposes. The systems have worked well, and on those occasions when repairs have been needed Kent has been great about working with us to get them repaired in a timely fashion.

I love working with you guys. I've always had great service and you are so easy to work with. I recommend your products to our investigators all the time.

I will say I am a fan of Kent Scientific and what they offer for small animal surgery solutions. I am a long time user of the Somnosuite and just recently got the new version (touch screen).

First reactions are I REALLY like the ability to control the syringe removal and prime speeds with the knobs, and also the fact that I do not have to calibrate the syringe volume. I have used the system now for about 30 mice surgeries , and over 40 hours of mouse imaging using the Vevo 3100 ultrasound. I love the fact that it used less iso and charcoal.

I love the SomnoSuite. It's extremely easy to use and delivers the minimum amount of anesthetic, which is an important factor in our diseased rodents that are susceptible to anesthetic side effects, especially at higher doses.

I like that its easy to see how much iso is left in the syringe. I love that the unit will use room air or compressed gas. This has been a life saver when the tank runs out. Really nice that it does not need to be calibrated.

Overall the system is super easy to use. It works well, not needing oxygen tanks is a huge plus.

What I like most about the SomnoSuite is the ability to have fine control over the amount of anesthetic delivered to the animal. The ability to interface with peripheral monitoring equipment is also really great for our surgical procedures. Also the system's portability when relocating to other lab spaces, and the ability to use either room air or compressed air is very helpful.

I am very happy with SomnoSuite System, because we are able to control many parameters concurrently. Also the experiment we are doing needs to be tightly controlled with body temperature.
We are able to save isoflurane, too. We completely replaced the previous isoflurane anesthesia system.

I'm 100% sold on the product.
1. No need for oxygen cylinders. This is nice as inevitably someone in lab fails to let others know that we're almost out. Also, now not a problem with our annual safety evaluation since we don't have compressed cylinders.
2. No need for annual calibration. This is beyond lovely. It is a pain to send off these units which are essential to lab progress once a year to get them serviced and calibrated. My university leaves me alone about my unit because it isn't a traditional unit and doesn't require service/calibration unless we've noticed a problem.
3. When we have had problems (and we have had problems, and my husband lab had a problem), you guys are on it. Very prompt in attention and getting it fixed and returned.
4. The RightTemp module is good. I don't use it as much as I maybe should, but we do use it as a heating pad during surgery (calibrating the temp of the pad, not by the rectal probe). It is nice to not have to nuke and then cool down overly heated wax-like heating pads or fold a normal heating pad into a ridiculously small space.

We love the SomnoSuite system and have had no problems.

I use the SomnoSuite and I love it!


I love the SomnoSuite since it is portable, and could be easily brought anywhere. We don't have the specific animal room for the surgery, we have to use the public area. This machine saves our time.

"I have replaced use of our older system with the somnosuite. It saves quite a bit of cost on isoflurane and compressed gas."


"I like the temperature probe integration to automatically increase the temperature of the warming pad."

What I like about the SomnoSuite is the different sized air tight chambers you have that allow me to use the correct size for the model I am analyzing. The system allows me to adjust the concentration delivered to determine dose dependency at different ages/genetics. It also allows me to go between isoflurane and sevoflurane to analyze differences between them. The different sized syringes allow me to only use the amount of anesthesia I need for an experiment which increases safety for myself and the undergraduate/graduate students working in my lab.

We do not have other anesthesia systems, but we would go with SomnoSuite again if we needed another.

The small low profile of mouse nose cone is great for our surgery.

I love that the system is very easy to use. Before purchasing the SomnoSuite, I had anesthetized mice by pentobarbital injection. The SomnoSuite makes this process exponentially easier.

We have been using the SomnoSuite systems since establishing the laboratory 4 years ago. They have been reliable, reduced user exposure to isoflurane below detectable levels, and have allowed us the flexibility to move our surgery spaces around as our research program has grown. The units are straightforward to use and I've enthusiastically endorsed them to my colleagues.

The system is working great and we have had no issues! We now have 3 machines and they are all working great.

So far, I'm really enjoying the Somnosuite. It's been really user friendly and reliable. I also like how little space it takes up in my (small!) procedure room.

We are liking our system,

We have been using the system. It has been very handy to have multiple nosecone setups so two of us can work together to get the work done.

I like using the Kent Scientific SomnoSuite anesthesia system because it is portable and has a wide range of control parameters that let me titrate the depth of anesthesia in response to real-time measurements. The support team from Kent is very responsive and has given me hands-on help with troubleshooting the anesthesia system.

The SomnoSuite has been working well for us.

We are very satisfied with our SomnoSuite unit.

We love our new system. It has made our work a lot easier.

The system is good.

I love the Somnosuite system, it only consume a fraction of isoflurane (1.5ml for 3 hour surgery in my hands) compared with traditional vaporizer. Good for environment and experimenter.