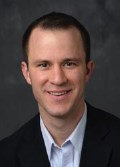 Scientists at Purdue University had a challenge: How could they use less anesthetic waste gas during lengthy procedures, save money, and make their labs safer for researchers and staff?
Typical anesthesia setups use a traditional passive vaporizer, flowmeter, and a nosecone or chamber. Though this may be a suitable method for anesthesia delivery for larger animals, it is not optimum when working with rodents. Using such a large setup on such small animals increases the risk of anesthetic gas exposure to researchers.
When Dr. Craig Goergen, Associate Professor of Biomedical Engineering and Director of Clinical Programs, joined Purdue in 2012 he knew Kent Scientific had a better option for anesthesia delivery to the mice and rats he was working with. Dr. Goergen had previous experience with Kent Scientific products during his graduate work at both Stanford University and Genentech Inc. with good results. He knew that the SomnoSuite System offered researchers several advantages over passive vaporizers. Unlike traditional anesthesia systems, the flow rate of the SomnoSuite System is designed specifically for mice and rats. It delivers only a fraction of the anesthesia used by traditional vaporizers and greatly reduces the risk of environmental gas exposure to those working with animals.
After joining Purdue, Dr. Goergen reached out to Kent Scientific and added the SomnoSuite to his new laboratory. He has been so pleased with its performance, he frequently recommends it to other researchers on campus.
"Many groups at Purdue became interested in using the SomnoSuite System for anesthesia delivery after we showed them how easy it was to operate and how little isoflurane it uses," says Dr. Goergen.
Other labs at Purdue soon followed suit, and there are currently at least six SomnoSuite Systems in West Lafayette and another five in labs in Indianapolis.
After hearing about the success other researchers were having using the SomnoSuite System, the Purdue Laboratory Animal CORE recently decided to make it their main method for anesthesia delivery and invested in two systems. This allows other researchers to learn about the benefits the SomnoSuite as they learn how to work with laboratory animals.
As researchers at Purdue know, the SomnoSuite can help make any small animal surgery safer and more cost-effective. At Kent Scientific we are pleased to have been able to revolutionize the anesthesia market for Purdue with the SomnoSuite Low Flow Anesthesia System.
---